Is Your Hot Water Heater Leaking? Are You Tired of Cold Showers?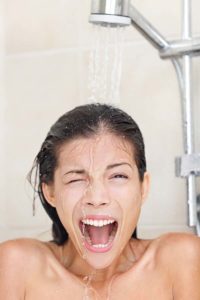 If you are the last one getting to the shower in the morning, you know that feeling of having to rush through your shower before every ounce of hot water is gone. That's no fun. Life's too short for cold showers. Before you assume you need a new hot water heater, let us take a look. Signature Plumbing Company can service your water heater, and may be able to get you back up to full steam with a little maintenance. If it turns out you do need a new water heater, we will give you unbiased advice on the best units we've seen for this area of Plano, Frisco, Carrollton, Lewisville, etc. We can handle all the details from arranging for your new unit to disposing of the old one. Just one call does it all. Enjoy the peace of mind knowing we can handle it all and give you affordable, professional results.
Like most other modern day conveniences, a steady amount of hot water is really only appreciated when it is gone. And if it runs out while you're in the shower, this shock can arrive quite abruptly.
Thankfully, it doesn't happen that often. But when it does, you need help quickly. Most water heaters are usually reliable and can operate for many years without a hitch. But when the hitch comes, it helps to know a little about what you're dealing with. Even though you may not want to handle the repairs yourself, you'll have a good idea what to tell the plumber when he arrives. Most homes around Carrollton, Plano and Frisco have a tank-type water heater. This is the type that looks like a large cylinder with pipes attached to it. If you live up North, you may not find a tank, but if you have a hot-water heating system that heats your home, it's likely that the hot water reaching your taps is heated by the boiler, but we don't have many of those in the North Texas area. Some newer homes may be supplied by a stand-alone instantaneous water heater that's mounted near the fixture it serves.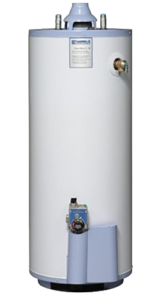 Around Frisco, Plano and other North Dallas communities, the standard water heater comes in two varieties: electric and gas. Signature Plumbing Company can handle maintenance, repair, or replacement on either style. Gas powered water heaters have a vent pipe at the top to carry away exhaust fumes. Electric models, on the other hand, simply have a power cable that "plugs" the unit to the electric service panel. The job of this tank-style heater is to heat the water and store it until you're ready to use it. That's why every water heater tank is insulated to help keep the water warm between heating cycles.
On top of your heater you will see water supply and delivery lines. The supply-in pipe brings cold water to the bottom of the tank through something called a dip tube. The delivery, or "hot water" line takes water from the top and sends it throughout your house. For safety, all water heaters are equipped with a T&P valve (temperature-and-pressure relief valve). This valve opens if either the temperature or pressure of the water exceeds a safe limit. The valve is connected to a pipe that runs down the outside of the tank, ending about 6 in. from the floor. It's a good idea to keep a bucket under the end of the pipe to catch water if the valve opens. It might seem ironic, but the T&P valve should not be connected to a drain. If the valve did open, a sign that a problem exists, you might never know you needed a plumber to look at it.
Today, almost all water heater tanks are constructed with steel, with an interior glass lining inside to help slow down corrosion. Most of the time, corrosion is the biggest reason that tanks fail and your hot water system shuts down. Once rust produces a hole, there are temporary fixes, but the tank should be replaced. All tanks also have an anode rod (sometimes called a dip tube) to arrest corrosion. This magnesium rod helps protect the tank by corroding in place so the steel tank won't. Because the rod is designed to corrode, it will naturally wear away over time. After this happens, corrosion of the tank itself ramps up. It's good practice to let Signature Plumbing Company check the anode rod once a year, and replace it when necessary. All tanks have a drain cock to empty the heater, and a valve on the supply pipe allows you to shut down the hot-water plumbing without affecting the cold-water supply to the house. This means we can perform this vital check with minimum intrusion of your home and daily activities. If you do need a new water heater, a good one to consider is listed below.
---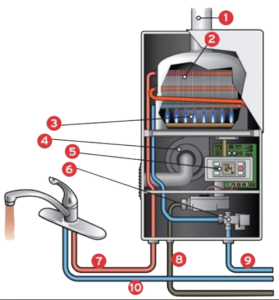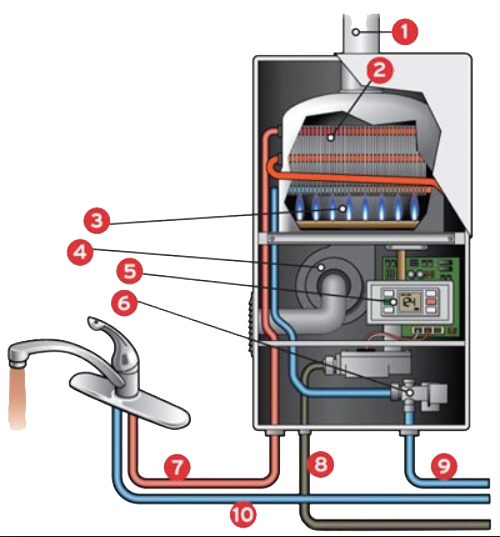 What Is A Tankless Water Heater And How Does It Work? Tankless water heaters are, as their name implies, a water heating system that heats the water you need to use on demand, instead of heating an entire tank full of water and then storing it and letting it wait to be used. They use high-powered gas burners or electricity to rapidly heat water as it runs through a complex heat exchanger system.
In a traditional hot water heating system, you use a large tank that holds and heats water, usually from 30 to 50 gallons. To get the hot water when you need it, the standard tank continually heats the water and keeps it at the desired temperature. This means that there is energy being consumed to keep the water hot even when it is not being used. This is often referred to as standby heat loss. On the contrary, a tankless water heater has no tank and therefore is not subject to standby heat loss since it only heats the water when you are ready to use it. This is the primary focus point that can makes them energy efficient.
Tankless water heaters are either smaller "point-of-use" heaters or units that supply the hot water needs of the entire house. The biggest advantage of point-of-use systems is that they are compact and can fit almost anywhere. However, the drawback is that they only supply hot water for (usually) a single sink or shower. They should be installed close to the outlet they are servicing. Installing them in close proximity means there is no lag for the water to reach the faucet. This helps ensure that you save on water consumption as well as energy. Whole house Tankless systems are larger, cost more but can operate more than one outlet or faucet at a time without any lag. If they are sized right, they are powerful enough to supply hot water to more than two outlets simultaneously without losing water temperature. Tankless models can be gas or electric powered.
Tankless Water Heaters are more efficient than tank style systems. The larger debate is how long it will take you to recoup (if ever) the additional cost of the system in energy savings. Unfortunately, there is no quick answer here. Call Signature Plumbing Company today. We can discuss your normal usage patterns with you and help determine which solution will be the most cost effective option for your particular family.
There is a reason that Signature Plumbing Company is the #1 water heater service company to call in Plano, Carrollton, Frisco and all of North Dallas. Our plumbing service area includes Carrollton, Plano, Dallas, Farmers Branch, Addison, Mckinney, Frisco, The Colony and all surrounding cities.
Below, you'll find a list of great things that we can do to help you out.
We should be your plumber of choice for:
No Hot Water or Running out of hot water.
Too long before getting hot water.
Water heater repair or new water heater installation.
Call 214-918-1075 Today for professional service.
In addition to more common repairs in and around your kitchen and bathrooms, Signature Plumbing Company has the expertise to handle virtually any other plumbing issues in or around your home as well. Here are a few of the other areas we can handle.