Trends In Carrollton Bathroom Plumbing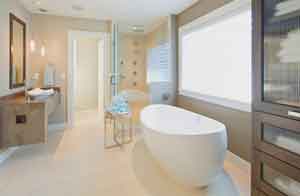 Trends In Carrollton Bathroom Plumbing
Are you tired of the same old toilet and outdated sink fixtures? If you are, then it's time to renovate your bathroom. Projects can range from simple cosmetic touch-ups to a total tear-down renovation. No matter what the scope of your bathroom remodeling job, you can improve the room's aesthetics and function, increase your water efficiency and raise the value of your house all at once. Take a look at some of the popular ways homeowners are customizing their restrooms:
Fix up your fixtures: Toss out the old rusted sink and shower fixtures and replace them with something fancy like brass, bronze or nickel to give the bathroom a whole new look. Make sure you get low-flow faucets, so you can cut down on your water bill while you're at it.
Showers from the future:
Some consumers are doubling their pleasure with dual shower heads, which require some plumbing expertise to install but provide a luxury deluge of hot water from all directions. Multiple shower heads will increase your water usage, but some bathers find the experience worth the extra cost.  If you really have cash to spare, you can install a steam unit in your shower and pretend you're relaxing at the spa. Tech enthusiasts can even put in electronic LCD controls to set the temperature, pressure, steam level and other settings.
Redo your walls and floor:
Maybe you just need to pick a new wallpaper to spruce up the tired look you've had for decades. However, many homeowners are going for glass tile to give the room a reflective, underwater look. As a bonus, tile can help limit moisture damage to your walls and prevent mold and mildew. Pick your favorite colors and really make the room stand out.
Experience radiant warmth:
Keep your bathroom warm and cozy by installing an electric heater in the wall, or radiant heat in the floor itself. These upgrades require complicated electrical work, so consult with a qualified electrician to ensure that the job is done safely and correctly. Some homeowners are taking the extra step to stay warm by actually installing a fireplace in their bathroom for the ultimate in bathing comfort.
Game of Thrones:
If you really want to be on the cutting edge of bathroom technology, look no further than the electronic toilet. Already popular in Japan, these marvels are starting to become available in North America as well. Think automatic lids, heated seats and self-cleaning features. But where modern toilets really shine is their built-in water jets that render toilet paper obsolete. Just make sure you warn your guests before they use the facilities.
Be aware that even simple-sounding jobs like replacing faucet handles can involve tricky plumbing, and more involved projects may require adherence to local building code. Consult a trusted professional to keep you on the road to a safe, legal and cost-effective bathroom overhaul. The experts at Signature Plumbing Company can help you make your new bathroom a reality! Call us today at 214-918-1075
When you need the services of a licensed, Master Plumber, be sure to remember Signature Plumbing Company. You can call us (214) 918-1075 or find us on the web at https://signatureplumbingcompany.com