Unlicensed Plumber Causes House Fire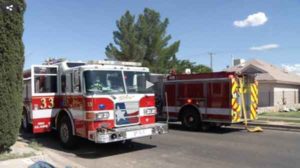 It's unfortunate that there are stories like this out there, but there are. You can read the entire story and see the video at this link. We know it is tempting to give-in the unbelievably low prices some plumbers advertise on Craig's list or other online services. The problem is that you don't know who will show up at your door, and you don't know the quality of their work. All you know is that they apparently are willing to show up for some per-arranged fee. This is not the caliber of craftsmanship you should trust with your home and family. In the example linked above, the fire broke out three hours after the amateur unlicensed plumber left. Thankfully, at least this occurred during the day and not at night.
Carrollton plumbing repairs can be trusted to Byron Neuse with Signature Plumbing Company with quality, professional results. Signature Plumbing is fully licensed as a Master Plumber, has all the professional insurance you would want as a customer, and is fully accredited with the Better Business Bureau. Many 5-star online reviews can be seen here. Let this sad story serve as a reminder that you always want to trust your home and family to a fully licensed professional plumber like Byron and Signature Plumbing Company.
Having a plumbing or water heating problem? We'll bend over backwards to make it right. You can call us today at 214-918-1075