Kid Friendly Bathrooms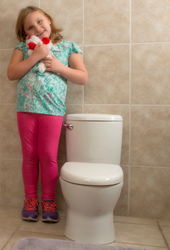 There's a little more to creating a bathroom for children than just adding some children's décor. Expert Master Plumber Byron Neuse advises parents to think about safety and design when creating a kid-friendly bathroom.
To begin with, the bathroom experience for children should start with safety. Most adult sized toilets can be too high or large for children. That's why we recommend a smaller, "elementary toilet". It's just 11-1/4 inches tall for easy access and the bowl is smaller, so it's a comfortable fit for a child." Available in two pieces, the round-front toilet includes a lid cover lock and a custom made SmartClose toilet seat. This seat closes slowly, so there's no banging down of the seat lid. That means the seat will not close suddenly and hurt any small fingers in the way.
Signature Plumbing Company also recommends other ways to make the bathroom a safe, yet fun place for children:
1 – Never leave a child alone in a bathtub or when there's running water in the sink. Gather bathing items such as towels, soap, etc. before putting children in the tub so you don't need to leave them alone.
2 – Have a small step stool (ideally with side rails) available to allow children to safely access the sink for hand and face washing, and to brush teeth.
3 – Place anti-slip stickers on the bottom of the bathtub. Fun stickers in all types of shapes and colors are easily available. The stickers make it easier for children to have secure footing when soaking in the tub and preparing to get dried and exit the tub.
4 – Make sure grab bars are within easy reach for children in the tub. Removable grab bars that can be repositioned as children get older are available for sale in many stores.
5 – Unplug bathroom appliances after every use. From hair dryers to electric razors, anything plugged in can be pulled into the water by a child not understanding the potential danger. So, stay safe and unplug all appliances in your bathroom.
6 – Don't have any glass in the bathroom. Because accidents can happen, it's safer to use plastic cups, toothbrush holders, soap dishes and other items throughout the bathroom when you have children.
7 – Regularly check water temperatures when your children are in the bathroom. A faucet turned warm can easily become scalding hot without close supervision.
8 – Lock your medicine cabinets. Colorful pills and tablets can look like candy to children, so it's best to keep all medicines in a locked cabinet.
9 – Keep small toys that don't have to do with bath time out of the bathroom. It's too easy for children to drop their toys into the toilet and then try to flush them away, which can cause clogs and overflowing toilets. So, play it safe by keeping just bath toys in the bathroom.
10 – Make a kid-friendly bathroom by adding kids bathing accessories that make life easier for everyone … like skid-resistant rugs, a warming container for towels or a fun tub spout covering to prevent bumps and bruises.
Signature Plumbing Company is a trusted Master Plumber serving Carrollton and North Dallas. As a family owned business, you are assured prompt, professional service from this Better Business Bureau "A" rated plumber. For more information, visit us at https://signatureplumbingcompany.com or call 214-918-1075.